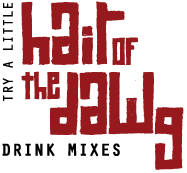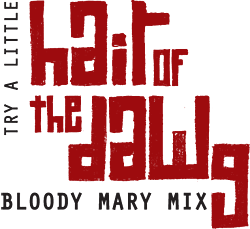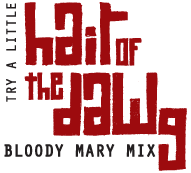 About Us
Many years ago, former Iowa Hawkeye basketball player Mark Gannon came up with this bold, savory Bloody Mary Mix that won the Twin Cities Bloody Mary competition 2 years in a row. At the urging of friends and family, he's finally brought it to a store shelf or tavern near you. Try a little for your next tailgate, brunch, or whenever you just need a little Hair of the Dawg!
Mark Gannon - Top Dawg/Sales
Mark is a born salesman. His recent positions in the sputtering mortgage and real estate industries sped his pursuit of his dream to market his mix. Mark likes his Hair of the Dawg with Vodka, a stick of Beef Jerky and two olives.
Leslie Gannon - Marketing & Promotions Dawg
Leslie's muttley, er... MOTLEY background in event planning, restaurant management, graphic design and marketing is finally coming together. Leslie likes her Hair of the Dawg with Vodka, Celery, Olives, a High Life chaser, and good friends and family around.
Chloe (aka C.B.) - Office Assistant
C.B. helps out around the office mostly by supervising, walking on keyboards and keeping laps warm. She likes her Hair of the Dawg in a bowl, with a fish stick on the side.